THE WONDERPONY'S "DIAMOND HORZSHOE" NOW OFFERS THE COMPLETE WONDERPONY VIDEO ARCHIVE, 7+ HRS, IN A HIGH DEFINITION, FULL SCREEN VIEWING FORMAT. IT IS THE ONLY PLACE THESE VIDEOS ARE AVAILABLE. THEY ARE NOT FOR SALE OR VIEWABLE ANYWHERE ELSE.

THE  NEWEST VIDEO ADDITIONS INCLUDE THE MOST REQUESTED OF THE WONDERPONYS EQUESTRIAN EXPLOITS, WHICH INCLUDE ALL  THE WONDERPONY VIDEO CLASSICS, THE JERRY SPRINGER SHOWS, THE ROBIN BYRD SHOWS, AND ALL THE  TELEVISION AND LIVE APPEARANCES THAT HAVE MADE THE WONDERPONY THE MOST WELL KNOWN HUMAN PONY IN HISTORY.

THERE IS NO OTHER SITE IN THE WORLD OFFERING MORE VIDEO OR PHOTOS DEDICATED TO THE PONYPLAY LIFESTYLE, AS WELL AS OTHER RELATED ADULT PLAY THEMES .

ALL IN HIGH DEFINITION AND FULL SCREEN VIEWING

THESE WONDERPONY SHOWS ARE TRUELY HISTORIC IN RESPECT TO PROGRESSING THE PONYPLAY FETISH, FOR NO OTHER PERSON OR  MEDIA HAS PUBLICIZED THE PONYPLAY FETISH AS MUCH WORLDWIDE AS THESE WONDERPONY EXPLOITS. BEFORE THE WONDERPONY, ONLY DEDICATED S/M FOLLOWERS PRACTISED THE ART OF PONYPLAY, AND EVEN THEY WERE VERY INEXPERIENCED ABOUT IT. NOW THERE ARE DOZENS OF PONY CLUBS, MILLIONS OF PEOPLE HAVE SEEN PONYPLAY ON TV, AND THE WONDERPONY HAS PERSONALY GIVEN 10'S OF THOUSANDS OF WOMEN AN ACTUAL HUMAN PONYRIDE !

TO VIEW A FREE SAMPLE PREVIEW OF THE DIAMOND HORZSHOE, CLICK ON THE PRETTY COWBABE BELOW.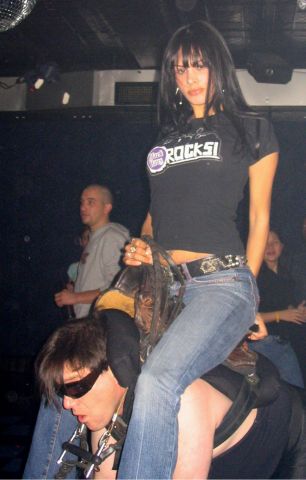 THE DIAMOND HORZSHOE IS FOR ADULTS 18+YEARS OLD ONLY